USA > Alabama
The Vegetarian Travel Guide includes vegetarian and vegan vacations, natural lifestyle and vegetarian events, local vegan and vegetarian meetup groups, vegetarian spiritual centers, yoga ashrams, an annual Calendar of Events, and lots more. Have fun and enjoy your journey around Alabama!
Updates & Additions: If a business has closed, please email us with the company name & city. If a listing is incorrect, please send us the current address, phone & website.

To find organic farms and farmers markets, CLICK HERE to visit our sister-site Raw Food Planet.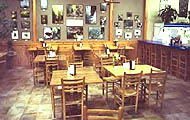 ..
(Left photo courtesy of Manna Grocery | Right photo courtesy of Golden Temple)

Golden Temple Natural Grocery & Cafe (Map | Reviews)
1901 11th Ave. S., Birmingham, AL 35205
Phone: 205-933-6333
Cuisine: Vegetarian
Whole Foods Market (Map | Reviews)
3100 Cahaba Village Plaza, Birmingham, AL 35243
Phone: 205-912-8400
Hours: Monday to Saturday 8am-10pm, Sunday 9am-9pm.
Cuisine: Natural Foods
Manna Grocery & Deli (Map | Reviews)
2300 McFarland Blvd., Suite 12, Tuscaloosa, AL 35404
Phone: 205-752-9955, Toll-free 800-752-9950
Cuisine: Natural Foods
Organic Harvest Market & Cafe (Map | Reviews)
1580 Montgomery Highway, Vestavia, AL 35216
Phone: 205) 978-0318
Hours: Monday-Saturday 9am-9pm, Sunday 10am-8pm
Cuisine: Natural Foods